AVAILABLE PUPPIES PAGE ONE!!!! PLEASE READ OUR CONTRACT AND HEALTH GUARANTEE PAGE BEFORE PLACING A DEPOSIT ON THE PUPPY OF YOUR CHOICE!!!
PLEASE READ THE HOME PAGE FOR HOURS AND NEW PHONE NUMBERS TOO !! GOD IS GREAT AND CHARLIE IS GETTING BETTER SLOWLY BUT SURELY!!! WE ARE NOW ABLE TO RE-OPEN BY APPOINTMENT ONLY (PLEASE READ OUR NEW BUSINESS HOURS AND SCHEDULE WE ARE ALLOWING VISITORS AGAIN) WE ARE RESUMING DELIVERY ON SATURDAYS AND MONDAYS!! WE WILL HAVE MORE PUPPIES PHOTOED AND AVAILABLE AS THE DAYS GO BY PLEASE BE PATIENT AND CHECK THIS PAGE OFTEN AS WE DON'T KNOW HOW IT WILL GO YET!! AS ALWAYS YOUR PRAYERS ARE APPRECIATED. THANK YOU CHARLIE AND SALLY!!!!
Our Motto: Everyone Should Be Able To AFFORD the puppy they want!!
As you will see, our prices are quite reasonable, although due to the rising costs of vaccines, feed and supplies we have been forced to increase them slightly 😒 with wages being $15.00 an hour, utilitiy bills on the rise we have no choice but to raise puppy prices. (When we started our business shots were $2.00 a dose now they are $7.00 a dose) We will do our best to keep prices reasonable and still have puppies with 3 sets of shots and dewormings. We also send dewormer home with every puppy our dewormer was $40.00 a bottle now it is $130.00 !!!! THANK YOU FOR YOUR SUPPORT AND UNDERSTANDING 😁
Feel free to inquire about any puppy or puppies.
A $200.00 Non-Refundable Deposit (unless something happens to the puppy before it's ready to go home) may be placed via Zelle or Western Union. This will hold your puppy until its ready date. Payment, pick-up or delivery must be completed by this time. While your deposit is, NON-REFUNDABLE (unless something happens to the puppy while in our care) it does go toward the purchase price.
Please know: Until we receive your deposit (or notice thereof), your puppy remains on the website. This insures that the puppy doesn't miss out on a different, wonderful home. We try to be as fair as possible. Thank you for your interest, compassion, and understanding.
We allow visitors after the puppies "Ready Date" that is listed under their photo. This keeps our puppies safe from deadly viruses such as Parvo. This is when your puppy is 9 weeks it has recieved 2-3 shots protecting him or her from this disease!
To schedule an appointment to pick up your puppy, take a look at a puppy, or for sales and service information:
Please contact (928)229-9848 (USE THIS NUMBER FOR DEPOSITS) and when calling please leave a voicemail with your phone number!! This is due to the high volume of solicitor calls we get!!! We are also out caring for the animals so sometimes it will be a while before we can return your call or text!!!!
Text messages are welcome or you can email us at bwaggintails@yahoo.com.

We are located at:
9188 Sharp Trail
Snowflake, AZ 85937
Just 10 miles outside town, off the Concho Hwy.
We accept Cash only (with the exception of deposits).
We update our website daily: so if it's listed, it's available.
WE RECCOMEND CHECKING OUR WEBSITE AT LEAST ONCE A WEEK FOR NEW PUPPYS VIEWING THE UPCOMING PUPPIES PAGE IS THE BEST WAY TO KEEP UPDATED ON OUR PUPPIES AND IF YOU ARE LOOKING FOR A MORKIE PLEASE CHECK THIS PAGE 2-3 TIMES A WEEK OR THE DATE LISTED ON THE UPCOMING PUPPIES PAGE AS THEY DO GO FAST. WE PHOTO AND PRICE THEM AT 8 WEEKS OF AGE AND THEY CAN GO TO THEIR NEW HOME AT 9 WEEKS OF AGE. ALL THEIR INFORMATION IS LISTED UNDER EACH PUPPYS PHOTO THEY ALL HAVE NAMES SO THAT WE CAN BE SURE ABOUT WHICH PUPPY YOU ARE LOOKING AT!
WE UNDERSTAND THAT YOU WOULD RATHER SEE YOUR PUPPY BEFORE YOU DECIDE ON WHICH PUPPY YOU WANT HOWEVER MOST OF OUR PUPPIES ARE SOLD WITHIN 24 HOURS AFTER POSTING THEM THIS IS A GOOD THING HEALTHWISE FOR YOUR PUPPY BECAUSE IT HASN'T BEEN EXPOSED TO OTHER VISITORS WHO HAVE LIKELY BEEN WINDOW SHOPPING AT THE SHELTER, PET SHOPS, OR ADOPTION AGENCIES THIS IS A POTENTIAL RISK FOR PARVO. WE NEVER LET ANYONE IN OUR NURSERY OR KENNEL FOR THIS REASON THANKS FOR YOUR UNDERSTANDING!!
WE WORK VERY HARD ON HOUSEBREAKING YOUR PUPPY BEFORE YOU TAKE THEM HOME AND RECOMMEND A POTTY PATCH ALSO A SMALL CRATE. WE WILL INSTRUCT YOU ON HOW TO CONTINUE WITH WHAT WE HAVE BEEN DOING MAKING IT AS EASY AS POSSIBLE FOR YOU.
MANY TIMES PUPPIES DO NOT STAY WITH THEIR ORIGINAL FAMILY BECAUSE OF THIS PROBLEM AND WE WANT TO MAKE SURE THAT DOESN'T HAPPEN!!
I USED TO SAY OH HOW CAN THEY GET POTTY TRAINED THAT FAST WHEN CUSTOMERS WOULD TELL ME BUT I RECENTLY ADDED ON OF MY PUPPIES TO MY FAMILY AND SHE IS A TINY MORKIE.
SHE HAS NEVER MADE A MESS ANYWHERE EXCEPT ON HER POTTY PATCH YAY IT REALLY WORKS😁🎉
PLEASE READ OUR NEW BUSINESS HOURS AND YOU ARE NOW ABLE TO COME SEE PUPPIES AGAIN AFTER NOVEMBER 1ST YOU MUST SCHEDULE AN APPOINTMENT.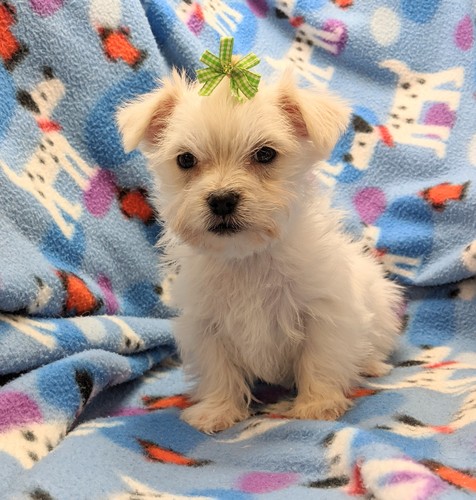 HI MY NAME IS TERRI I AM A FEMALE MORKIE MALTESE/YORKIE MIX MY DAD IS SLICK ON OUR PARENT DOG PAGE $$750.00 I AM A CALM LITTLE GIRL THAT WILL BE READY FOR MY NEW HOME ON 5-11-22 AT 9 WEEKS OF AGE I HAVE AN EASY TO GROOM COAT THAT WILL NOT SHED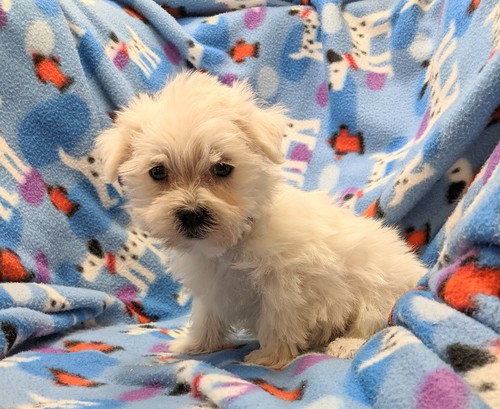 SOLD SOLD HI MY NAME IS WILLY I AM A MALE MORKIE $450.00 I HAVE AN EASY TO GROOM COAT THAT WILL NOT SHED AND MY ESTIMATED WEIGHT FULL GROWN IS 10-15 POUNDS I AM READY FOR MY NEW HOME ON 5-11-22 AT 9 WEEKS OF AGE